How to Contact Us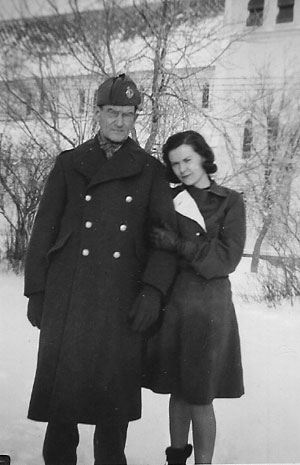 Pte. Patrick J. Hennessy, age 56, in early December, 1940, shortly before he left for basic training at Valcartier Camp in Quebec. Standing with Patrick outside the family home in Bathurst, New Brunswick, Canada is his youngest daughter Anna Hennessy. Across the street is the old Holy Family Catholic Church. Patrick was 61 years old when he returned from Scotland in 1945, making him one of the oldest men to serve for the Canadian Armed Forces during World War Two.


You can write to Melynda Jarratt and Patsy Hennessy in New Brunswick, Canada, at:
Do You Have Letters, Photographs, Archival Documents?
If you have letters, photographs and or archival documents about the Canadian Forestry Corps, particularly as it relates to New Brunswick and the 15th Company, please contact us.
Mailing address:
Letters From Beauly
c/o Melynda Jarratt
510 Gibson Street
Fredericton, New Brunswick
E3A 4E9
Canada

Telephone:
In Canada 506-455-3568 / 506-548-5624 / 506-440-4567 (cel)