About The Book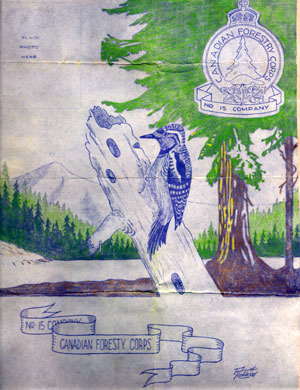 This is the logo that Patrick's son, Roger Hennessy drew for the 15th Company, CFC, at his father's request in 1941.
During WWII, hundreds of New Brunswick woodsmen joined the Canadian Forestry Corps to log the Scottish Highlands as part of the war effort. My grandfather, Patrick Hennessy was one of them.
For five years while he served as camp cook with the 15 th Company at Beauly, near Lochness, Patrick wrote his family in NB and they wrote back to him, providing a rare, diary-like glimpse into life overseas and on the home front. Numbering nearly 300 letters and hundreds of archival documents, this unique collection tells a compelling story that has never been told before in Canada or Britain.
I plan to tell the story of the CFC in Scotland through the Hennessy letters and to elicit additional research material through the media and my website, www.LettersFromBeauly.com (which will contain a searchable database of the 300 letters).
I will also travel to Beauly to meet the descendents of the people my grandfather befriended and find out what happened when the Canadians descended upon their village so many years ago.
UNB's Gregg Centre for the Study of War and Society has offered to publish the book as part of its NB Military Heritage Series co-published by Goose Lane . With GL's extensive marketing and distribution network, the book will become an indispensable resource for students, educators, historians, genealogists and family members researching the history of the CFC in Scotland .