About The Book "Letters From Beauly"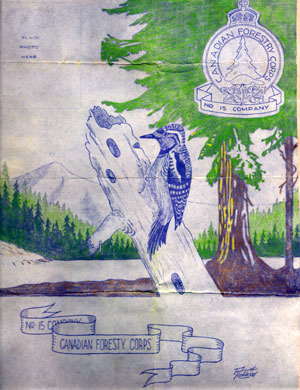 Pat's son, Roger Hennessy, an aspiring artist in his own right, drew this certificate for the 15th Company, CFC in 1941. It was a big hit among the officers who all wanted a copy for themselves at $5 a piece!


During WWII, hundreds of New Brunswick woodsmen joined the Canadian Forestry Corps to log the Scottish Highlands as part of the war effort. My grandfather, Pat Hennessy was one of them.
For five years while he served as logging camp cook in Scotland, Pat wrote his family in NB and they wrote back to him, providing a rare, diary-like glimpse into life overseas and on the home front. Numbering nearly 300 letters and hundreds of archival documents, this unique collection tells a compelling story that has never been told before in Canada or Britain.
Letters From Beauly: Pat Hennessy and the Canadian Forestry Corps in Scotland 1940-1945 tells the story of Pat's experiences while serving overseas in Scotland with 15 Company, Canadian Forestry Corps on the northern Highland Estate of Lord Lovat, the famed Highland Chief of the Scottish Clan Fraser.
The book is published by Goose Lane as part of the NB Military Heritage Seris of UNB's Gregg Centre for the Study of War and Society. My hope is that the book will become an indispensable resource for students, educators, historians, genealogists and family members researching the history of the CFC in Scotland.
Melynda Jarratt